Updated a decade after its original publication, this memoir by Jean Hay Bright chronicles the years in the 1970s when the author and her first husband, a traumatized Vietnam veteran, homesteaded on 25 rugged Maine acres sold to them by Living the Good Life authors Helen and Scott Nearing, and the aftermath of that experience in the decades that followed.
Jean also used her investigative reporting skills to try to resolve some long-standing and nagging questions about the Nearings, focusing particularly on their finances over the decades. Her research also turned up some surprising and enlightening facts about how Helen and Scott Nearing actually lived and died.
The revised edition has a new Prologue by Susan Hand Shetterly, more family photos, an expanded Afterword, as well as details and a new chapter pulled from Scott Nearing's FBI file, including documentation of Scott's listing in J. Edgar Hoover's Custodial Detention program.

This book, 40 years in the making, will make you laugh, make you cry, and surprise you with its detail (Jean's mom saved her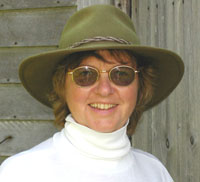 letters) as it recounts the joys and pains of one personal homesteading experience. In writing this book, Jean also put her investigative reporting skills to work to resolve some nagging questions, and has come up with some astonishing and controversial facts about how Helen and Scott Nearing really lived -- and died.
(This book has staying power -- Sales on Amazon.com have held up well since its publication in 2003!)